In August 2012 our Painters and Decorators in South London were contracted to complete decoration works to this 19th Century Lecture Hall at a well-known University. When working on a listed building, our painters and decorators knows that you have to be sympathetic to the buildings history and try to retain as much of it's originality as possible.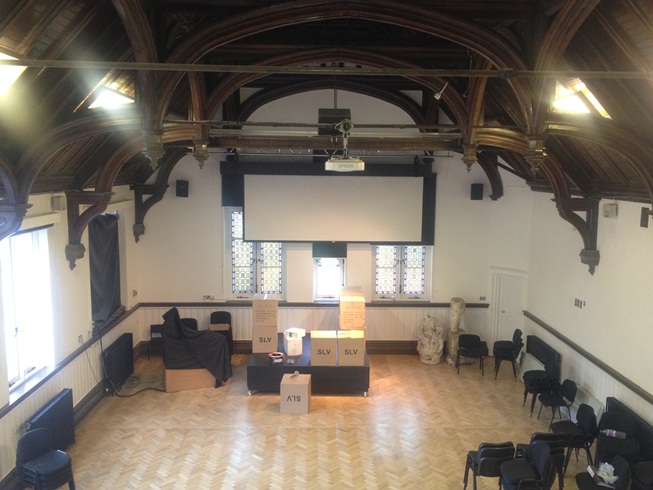 At some point in it's history the timber windows at this South London University had been painted with a ghastly rusty brown gloss paint and the oak panelling on the perimeter of the room was a dark, dirty brown colour. Also, unfortunately, it had been many years since the hall had had any real work done to it; the parquet floor was dark and tired, there was evidence of water ingress on the plaster work which had led to large blown areas of plaster on the walls along with unsightly yellow water marks. The windows had developed some rot in places and there were clear signs of a few bodged repairs and touch ups. The whole room, despite it's huge vaulted ceiling and large windows, just felt gloomy, claustrophobic and tired.
Our painters and decorators began by raking out all of the blown plaster and scraping back the loose, flaking and delaminated paint throughout the hall. The larger chunks missing from the wall were stabilised and filled with bonding coat, this is a cheap, low suction undercoat plaster that is used to provide a base for finishing coats. A couple of coats of Easifil later and a good rub-down with a Mirka Ceros and the walls were ready for painting. In this instance the client had specified that Dulux products be used so our decorators applied three coats of off-white Dulux Trade Vinyl Matt by brush and roller.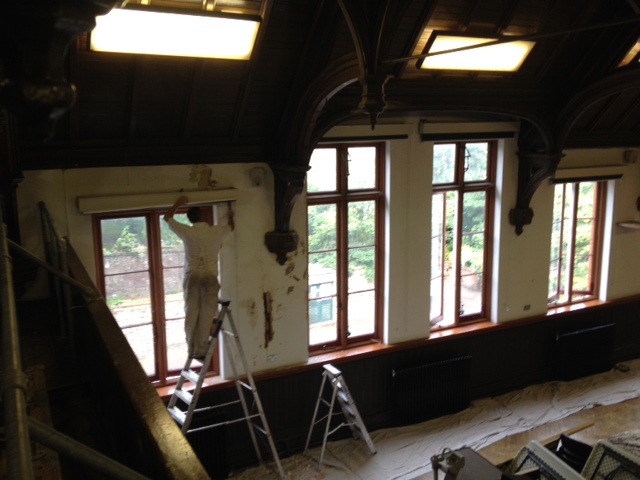 The next task at hand was to address the huge windows which were around 8 feet in height. The central stained glass window at the front of the room was around 12 feet in height and we set up an aluminium scaffold tower to provide safe and easy access to prepare and paint the windows of this building in South London.
Again the painters and decorators began by removing the loose, flaking and delaminated layers of paint which exposed a few minor rot repairs. Rotten glazing beads were replaced and knots sealed using Zinsser BIN, then primed using Zinsser Cover Stain.
The larger rotten areas of the window frames were ground/routered out, back to a sound surface using a Makita Die Grinder with a straight cutter attached. These larger holes were then repaired with an elastic repair compound – the RepairCare Dry Fix/Flex 4 system.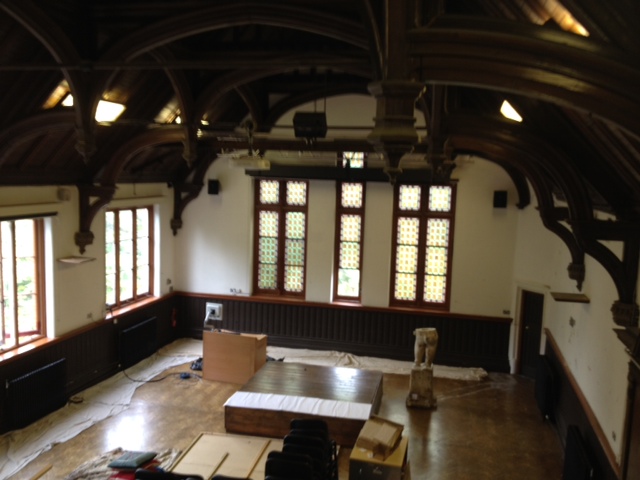 Although the worst of the remedial work had now been done the window frames were still covered in dents, imperfections and screw holes where window furniture had been moved over the years. Also, strangely, there were literally dozens of staples in every window; we assumed they had been used to hold up some makeshift blinds which had been ripped down at some point. We pulled out all of the staples and skimmed over every inch of the windows and sills with a two-pack filler; Upol Easy One.
An hour later and the epoxy filler was ready to rub down. Our Painters and Decorators started by using the Festool RO90 with an 80G abrasive attached to shape the filler and then followed by hand sanding using the Mirka Handy with a 180G abrasive to get a really smooth, glass like, base ready for painting. Deeper imperfections were filled again and the process repeated.  The windows were then given a full coat of Zinsser Cover Stain primer, one undercoat and two full coats of oil based off-white satin finish taking care to rub each coat down between coats with fine grade sandpaper. We then replaced any broken handles, locks and fittings and picked out all of the existing window furniture in an acrylic black gloss.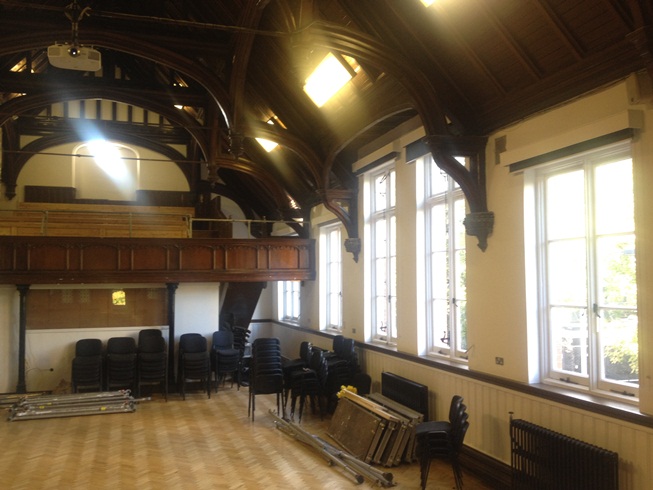 The next job at this project in South London was to prepare and paint the oak panelling that lined the perimeter of the room, but first we had to disconnect and remove nine cast iron column radiators that were fixed to the panelling. At around 250-300kg each this was an exhausting task! We then gave it all a good rub down with our selection of abrasive equipment and repeated the same filling process that we used on the windows. Due to the drastic colour change required the decorators applied two full coats of white undercoat followed by applying two coats of off-white satin finish, again carefully de-nibbing between coats with fine grade sandpaper. The skirting boards and window sills were then picked out with a mid-brown satin finish and we sprayed the column radiators with Bedec MSP black gloss using a Graco EasyMax FF before fixing them back to the wall.
The original parquet flooring, staircase to the upper tier and the oak benches were then sanded back to bare timber and three coats of clear acrylic lacquer applied by brush and roller.
As you can see from the photos the whole room looks bigger, lighter and rejuvenated. Our Painters and Decorators were thanked for another job well done and we handed the hall back to the client in a little under two weeks from the day the redecoration works began.
If you are looking for Painters and Decorators in South London to undertake a similar project then please fill out THIS form and we will be in contact as soon as possible to discuss your requirements.