We recently put the Corona Morro paint brush to the test.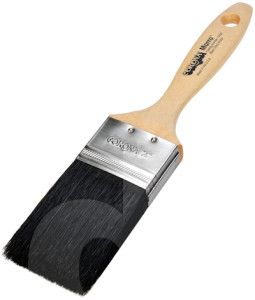 In the on-going pursuit of the best all round brush for applying oil based paint I recently tested out the black China bristle brush from American paint brush manufacturer Corona. The first thing to notice about the Morro is its size, it's a big solid brush with a square ferrule. It was pretty clear from the start that this brush was going to pick up lots of paint.
I put it to the test on an interior painting job in Brentwood, Essex. An 18th century listed property with a mountain of joinery all to be finished in Little Greene Traditional Oil Eggshell which included cornices, windows, solid oak doors, ornate features and miles and miles of panelling. I was looking for a brush that could pick up and deliver oil paint onto the surface quickly and then lay it off to a super smooth finish.
The intention was to roll the panelling and then tip off with the Morro, but it soon became apparent that the brush was more than capable of doing the job on its own. Little Greene oil eggshell is a particularly sticky paint and so I was very surprised at how effectively the brush picked it up and then had the ability to lay off a flawless finish, a good dollop of Owatrol paint conditioner also eased application.
Throughout the job which lasted 3 weeks I used the Corona Morro most days and found that it shed VERY few bristles with absolutely no 'wearing in' prior to use. I also found it tough enough to withstand the stabbing action used on part of the balustrade with no shape loss at all.
The Corona Morro is a welcome addition to the armoury and certainly has a huge advantage on big oil jobs like on this project in Brentwood, Essex. Due to its bulkiness, and the fact that it is not available in a smaller size than 2", it is a little too cumbersome for the more intricate jobs like glazing beads and kitchen cabinet painting.
Overall the Corona Morro gets an 8.5/10 from me. If you're looking for a brush that offers huge pick up and release of oil paints and has firm, chiselled bristles that are tough enough to lay off even the stickiest paints then the Corona Morro is definitely a brush to consider!
You can stay in touch by subscribing to our blog here….