In September 2009, HarriDec Ltd were contracted to hand paint this bespoke conservatory that had been erected on a 16th century, listed building in Brentwood, Essex.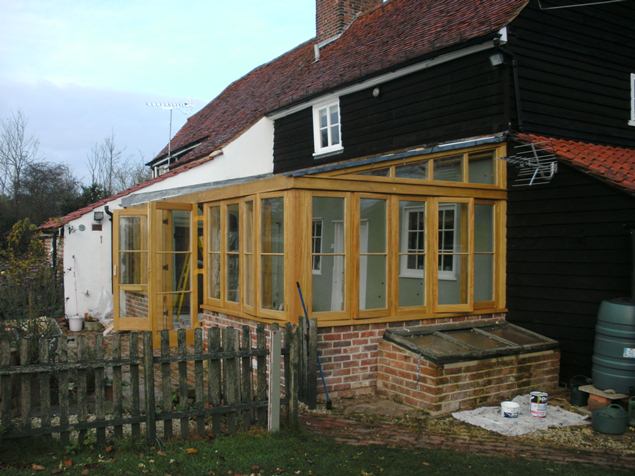 Winter was on the way and we had to make haste to get the job completed before the cold weather set in, the joiners who had erected the conservatory left site 15th September and our Painters and Decorators in Brentwood were on site the very next day to begin the painting work. At the time the EU Regulations that restricted the VOC content of solvent based paints had not come into force and so we advised that the Dulux Weathershield system be used to paint and protect the timber. Had it been after the VOC regulations were imposed in January 2010 then we would have advised that Sadolin Superdec be used, but at the time Dulux Weathershield was still our 'go to' product for exterior joinery.
We gave all the timber a good rub down with 40G sandpaper so that it would accept more of the primer and we applied two coats of Weathershield Preservative Basecoat inside and out making sure to get every last inch on the tops and bottoms of the opening windows, in the rebates and all the awkward bits in the nooks and crannies of the skylights. Following the Weathershield system we then applied a full coat of WS undercoat, however a lot of the timber was still visible through the paint so we carefully rubbed it all down with fine grade sandpaper and applied another undercoat and again we rubbed it all down in preparation for the final gloss coats.
Once the undercoat had fully dried, been rubbed down and all the tiny gaps in the joins, nail holes and imperfections been caulked and filled we applied the first gloss coat using Hamiltion paint brushes, making sure to carefully lip a fraction of a millimetre onto the glass from the glazing beads. This first gloss coat was then hand flatted using very fine grade wet and dry sandpaper; as any professional painter and decorator will tell you, using wet and dry between gloss coats provides a glass like, high gloss finish that just looks fantastic.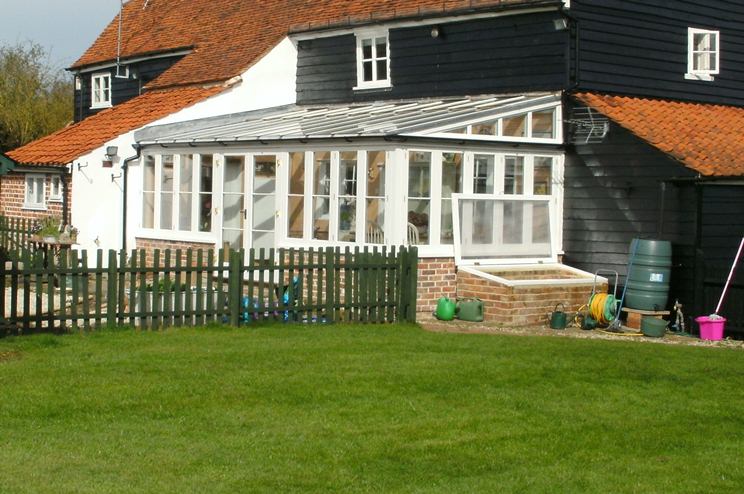 After the final gloss coat had been applied and left to dry we refitted the ironmongery to all the moving components of the conservatory and redecorated the inside walls using Farrow & Ball Modern Emulsion in Fowler Pink.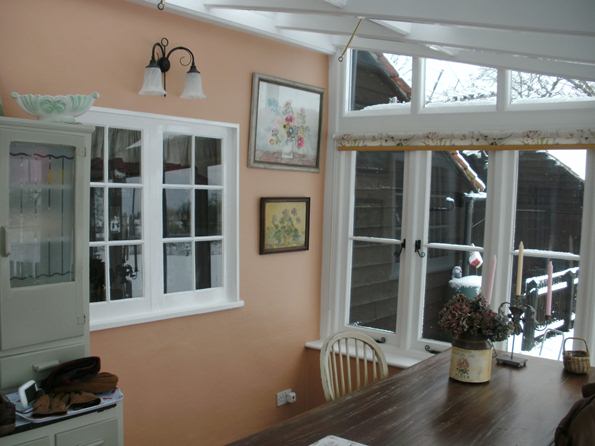 This hand painted conservatory was completed by our Decorators in a little over one week and led onto the complete redecoration of the property, which is another of our showcase projects featured here: Listed Building in Brentwood.
If you would like to have your new or existing conservatory or orangery hand painted by our decorators then please fill out THIS form and we will be in contact as soon as possible to discuss your requirements.